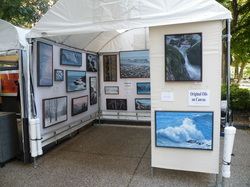 Rittenhouse Square Fine Art Exhibition, Philadelphia, PA. September 16-18, 2011. This shows my display along the south side of the park. The Rittenhouse Square exhibition is held every year in June and September.
After four months of work, I finally completed the 30x40 painting "Receding Tide". This piece has been added to the "new pieces" page as well as the homepage slide show. I don't often find beaches with so many stones, so this was a challenge, especially on my patience. I began this painting in May after a visit to Rhode Island in April. I was fascinated by the diversity of stones in the foreground, especially the granites. It reminded me of a beach on the New Hampshire Coast, within Odiorne State Park, where the sound of the stones rolling back as the surf receded sticks in my mind. This painting was exhibited for its first time at the Rittenhouse Square show in Philadelphia this past weekend.

I also completed the painting "Evening Mist", 24x36. A scene depicting an inland waterway as the setting for unique sky effects. I saw this sky over a marsh area north of Clarks Summit PA last month.

Currently, I'm still working on two forest stream paintings, both 24x36. One is a summer scene, the other autumn. Both of these have been in process for 8 months now, but I hope to finish them in order to exhibit at the Skytop PA show in November (see show schedule - "About artist" page).

This week I plan to complete two smaller pieces. The first, began in June, features the surf breaking around a rock formation off Conanicut Island ..... Rhode Island. The second, just started last week, has been progressing fast. Its a 12x24 autumn mountain scene. I plan to exhibit both of these for the first time at the show in Armonk NY this coming weekend.

I welcome the approach of autumn weather with its cool refreshing air. This will shift my focus to painting autumn leaves and inland landscapes. I love the change of seasons, especially the dramatic shifts from September through December. I look forward to SNOW and its magical effects within the forest!!