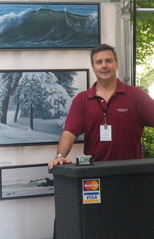 With the onset of autumn, my painting has begun to explore the wonders of October forests. Although I am continuing to work on 3 seascapes, I have started a couple smaller studies of autumn trees. I hope to complete and exhibit one of these this coming weekend at an art show in Bethesda Maryland.

The weather and response was very good from my past two shows, Rittenhouse Square in Philadelphia, and an exhibition in Armonk, NY, so I look forward to this weekend.

This is a difficult season, since I am torn between my usual artistic studies of surf, and new drive from the changing seasons. There is certainly room for both in a never ending torrent of inspiration from the natural world.